Tadiran is a global provider of Unified Communications & Collaboration (UC&C), Contact Center, and Control Room solutions, serving businesses of all sizes, including tier-1 organizations in various market segments in 41 countries worldwide. Tadiran solutions feature a comprehensive family of products including UC platforms, IP PBXs, soft switches, contact centers, Dispatch Console, IP phones and mobility and desktop solutions.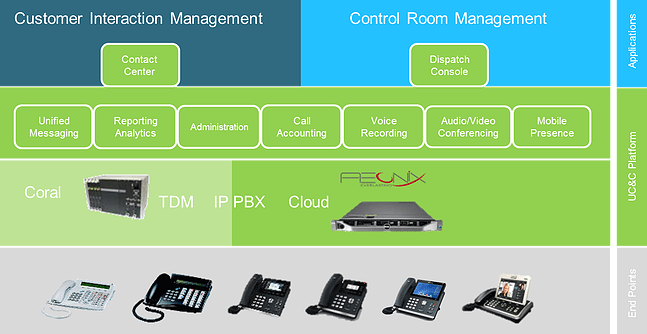 The Coral IPx family of products is a powerful communications platform. It provides built-in voice and data convergence by combining IP-rich technology with the stability of TDM technologies. Coral IPx systems are complete networking solutions, offering powerful unified communications and multi-media capabilities, mobility features, and a host of IP-related features. Ideal for single deployment or multi-site networks, Coral IPx systems are suitable for organizations of all sizes, offering models that scale from a dozen to over 6000 ports.
Aeonix is a pure software based Unified Communications & Collaboration solution (UC&C) that consolidates disparate business applications into a single powerful platform. It is delivered on a fault tolerant and open architecture, with intuitive management tools. Aeonix can be deployed in a private cloud environment or as an on premise solution.